There is a song I love that was sung by Steve Green, Find Us Faithful. It is a great encouragement as he beautifully sings,
We're pilgrims on the journey
of the narrow road,
and those who've gone before us
line the way.
Cheering on the faithful,
encouraging the weary,
their lives a stirring testament
to God's sustaining grace.
Surrounded by so great
a cloud of witnesses,
let us run the race
not only for the prize,
but as those who've gone before us.
Let us leave to those behind us,
the heritage of faithfulness
passed on thru Godly lives.
It is the chorus of that song I especially love,
O may all who come behind us
find us faithful;
may the fire of our devotion
light their way.
May the footprints that we leave,
lead them to believe,
and the lives we live
inspire them to obey.
O may all who come behind us
find us faithful.
What a great expression of Christian legacy. Legacy is a topic I have written about several times because I have heard interest from readers and people I speak with on behalf of The Idlewild Foundation. Don't wait until "next year," "next month," or even "next week. Start today and make this a year in which you focus on how you will be known and remembered. May those who follow in your footsteps find you faithful!
Here are a few ideas to start your legacy.
Think about your family. As only four of an endless number of possibilities:
Can you help provide a Christian education for grandchildren? 

Is a family member considering adoption but struggling with the cost?

Is there a family member with special needs who could use some support? 

Is there a family committed to foster care, serving as foster parents –  opening their homes and their hearts to children at risk.
Spend a few minutes and think back to the last missions conference you attended. At Idlewild we call them Global Impact Conferences.  Think of a booth you visited or a story you heard that excited you and warmed you heart about someone's special service. Now write that name down. Call someone in that ministry and find out how you can offer support that will be meaningful and that will hit the sweet spot in that ministry that caught your attention. Consider joining in that ministry with more than financial support. If you are short on cash, I don't know of many ministries that couldn't use more prayer support, "feet on the ground" in terms of short-term missionaries, or even local administrative support.
Meet with your financial advisor or a representative of The Idlewild Foundation to learn how wise estate planning can create a tax-wise series of gifts for family and ministry and, in doing so, increase the net donation and the impact of the estate with a gift of highly appreciated assets such as real estate, traditional IRAs, 401(k)s, 403(b)s, or appreciated stocks or bonds to Idlewild or to the Foundation.
Consider giving to an endowment, or permanent fund, such as The Idlewild Foundation's Permanent Fund. Such a fund can support Idlewild or the ministries of your choice indefinitely. Read more at The Idlewild Foundation Permanent Fund.
A donation to The Idlewild Foundation's scholarship fund can ensure that your money will help educate an Idlewild member who is active in the ministries of the church and in a small group, and who has a financial need to complete college or attend technical or vocational training. The Idlewild Foundation has given out hundreds (more than 450) of scholarships totaling over $1.1 million in ten years and will continue to do so as long as faithful people give to this worthy fund.
Or make an impact in the life of a child and donate to Fund 1:27. That fund, starting by the Foundation in 2021, is for the foster care ministry at Idlewild Baptist Church and Tampa Bay. Not one dime of any donation goes to a Foundation salary or overhead. We are almost fully volunteer and work hard to make sure that donations go 100% to ministry. Foster children (and there are over 8,000 in the Tampa Bay region) face special challenges. Many came from a substance-abusing or abusive environment and they can have special (often expensive) needs. We support Trust Based Relational Intervention® therapy for families with a need, help with respite care, have a support group, help the families build Care Communities and otherwise provide a range of support to try to interrupt the cycle of abuse – hurt people do not have to hurt people! To learn more or to donate, go to our website for foster families.
Please consider a legacy gift that will demonstrate your faith and light the way for those who follow you. In this very difficult world, your display of your faith, your legacy, may make an eternal difference for many.
To learn more, contact us at The Idlewild Foundation at (813) 264-8713. It is our ministry and legacy to help you find and support yours.


About the Author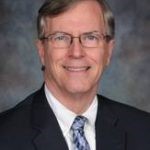 John Campbell has retired from a 40-year legal practice as a trial attorney in Tampa. He has served in multiple volunteer roles at Idlewild Baptist Church in Lutz, Florida, where he met Jesus.  He began serving as the Executive Director of the Idlewild Foundation in 2016.  He has been married to the love of his life, Mona Puckett Campbell, since 1972.