In the last post we began to answer the question asked in the title, "What Will Your Legacy Be?" We looked at the legacy you are forming with your faith, compassion, words, conduct and giving. Now we are going to take this topic of your legacy to another level.
Paul has given us what should be our first priority:
1 Corinthians 15:3-4 
3      For what I received I passed on to you as of first importance: that Christ died for our sins according to the Scriptures, ? 
4      that he was buried, that he was raised on the third day according to the Scriptures,
As believers, we rejoice with faith in the resurrection of Christ our Savior. We also understand that we are blessed with eternal life in Christ. However, we also know this time of passage from life to death is a difficult time at best for those who remain behind.
How can you help those you will leave behind? There are many things you can do, but among the most important are:
Live a life of unquestioned faith. We are called to demonstrate our faith in our lives visibly and constantly.

We can leave words of encouragement to our loved ones.

We should leave an organized estate for our loved ones.
Each of these three is an opportunity to be a witness to loved ones and to those who know you, as well as to leave a legacy for all to see.
Live a life of unquestioned faith
We are called to demonstrate our faith in our lives. 2 Samuel 22:26, Psalm 31:23, Psalm 37:28, Psalm 86:2, Matthew 9:29, Matthew 25:21, Luke 17:6, and Romans 1:17 among many others.
The life of faith we live is seen by those around us, especially by those closest to us. Show faith in all you do and be a witness to the strength of the Holy Spirit through your constant faithfulness.
Having an estate plan with a bequest to Idlewild Baptist Church provides an excellent opportunity for you to show your appreciation for what Idlewild has meant to you and to provide ongoing support for the ministries that mattered to you. A gift to the church through your will serves as a witness to your loved ones and heirs of your faith in God and in the resurrection. A bequest provides you with one last opportunity to demonstrate what your faith was, how much you love Jesus, and your stewardship. At the same time, you can be a blessing to future generations!
Leave words of encouragement to our loved ones
No one is strong enough to live life alone. We need support and often the best support is a word of encouragement. Live a life of encouraging others and you will be remembered as a Barnabus. Acts 4:36.
Hebrews 3:13 
13     But encourage one another daily, as long as it is called "Today," so that none of you may be hardened by sin's deceitfulness.
Leave an organized estate for our loved ones
It should go without saying that in the days following the death of a loved one, the last thing the grieving family members need to have to do is struggle to figure out if there was a will and what needs to be done to manage the personal and financial affairs of the deceased. Yet that is exactly what often happens because no one knows where the important papers are. Even if they know where, often they can't find the key to the safe deposit box or the combination to the safe. It is hard to handle financial affairs if the banking records are disorganized (or nonexistent) and the life insurance policy can't be found. No one should have to search through hundreds or even thousands of records at a time of grieving. For ideas on how to arrange your financial affairs and your documents to best assist your loved ones, see Documents (and Protection) Everyone At Every Age Should Have and Essential Documents – End of Life Checklist.
If you have any questions, please feel free to call us at (813) 264-8713. Dealing with these topics is always difficult, but we enjoy serving God by listening and helping where we can.


About the Author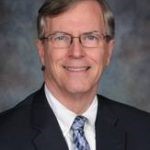 John Campbell has retired from a 40-year legal practice as a trial attorney in Tampa. He has served in multiple volunteer roles at Idlewild Baptist Church in Lutz, Florida, where he met Jesus.  He began serving as the Executive Director of the Idlewild Foundation in 2016.  He has been married to the love of his life, Mona Puckett Campbell, since 1972.