There are likely very few Christian articles that will start with a quote from, of all people, Hunter Thompson. For those not familiar with him, Hunter S. Thompson (1937 – 2005), was an author and journalist who hated authority and made many outrageous statements like, "I hate to advocate drugs, alcohol, violence, or insanity to anyone, but they've always worked for me." His life was a sad model of rebellious misconduct and contempt for many people and things.
But the quote of Thompson's I am starting with may be proof of that Southern statement that "even a blind hog finds an acorn," because for once, Thompson made good sense with the statement:
"Life should not be a journey to the grave with the intention of arriving safely in a pretty and well-preserved body, but rather to skid in broadside in a cloud of smoke, thoroughly used up, totally worn out, and loudly proclaiming "Wow! What a Ride!"
That statement raises a good question for Christians, myself included. Do I live a life of earthly security as opposed to the call of Jesus? Or, phrased differently, do I live too much of the American Dream and not enough like Christ?
It isn't that we should sell everything and walk around in sandals and a robe preaching the Good News. Jesus never called all people to do that. But what became the commercialized American Dream that I grew up with urged me to want a house in the suburbs, a spouse, 2.3 children, a two car garage with one car inside, one car outside because of all the excess stuff stored in the garage, a good job in the city and time for weekends and a trip each year during my vacation. Those aren't necessarily bad, but that commercialized American Dream is far from the best Jesus would have for us.
I want to correct one thought, because that commercialized American Dream is not the way the concept of the American Dream started and is far from what it really is (or should be). The original non-commercial American Dream is far from that commercialized abomination of the 1960s and beyond. The American Dream was first identified by James Truslow Adams in 1931 when he wrote "life should be better and richer and fuller for everyone, with opportunity for each according to ability or achievement." He called for a life of opportunity regardless of race, social status, or where a person was born, not for commercialized stagnation. A "richer and fuller" life does not mean rich as in money and full of stuff.
In truth, I believe Jesus would still be troubled by and unable to live even the original American Dream in its entirety. Certainly, the modern commercialized American Dream is not the Jesus dream.
You cannot square the commercialized American Dream with:
1 Timothy 6:17-19
17  Command those who are rich in this present world not to be arrogant nor to put their hope in wealth, which is so uncertain, but to put their hope in God, who richly provides us with everything for our enjoyment.
18  Command them to do good, to be rich in good deeds, and to be generous and willing to share.
19  In this way they will lay up treasure for themselves as a firm foundation for the coming age, so that they may take hold of the life that is truly life.
Or:
Matthew 6:19-21
19  "Do not store up for yourselves treasures on earth, where moths and vermin destroy, and where thieves break in and steal.
20  But store up for yourselves treasures in heaven, where moths and vermin do not destroy, and where thieves do not break in and steal.
21  For where your treasure is, there your heart will be also.
In fact, the commercialized American Dream is so supremely selfish that it can't be squared with the heart of the Bible.
Set aside the commercialized American Dream. How about the original American Dream? Isn't a life that is "better and richer and fuller for everyone, with opportunity for each according to ability or achievement" a statement of at least some Christian ideals. Isn't that a good life, a life that can be worshipful to God as well as honoring to God by hard work, fair treatment of others, and moral behavior?
Yes, the original American Dream is aligned with some Christian ideals. There is a lot of good in the original American Dream, but even the original American Dream is too focused here on earth and gives no consideration to either God or the kingdom of God. You cannot read through the parables of Jesus and not see that He spent a lot of His time directing people to the kingdom of God and the kingdom to come, not to greater comfort here. He did it with good reason – eternity with God vastly outweighs 50, 60, 70, 80 or more years here on earth, comfortable of not.
There were calls by Paul for some of what the American Dream called for. He called for greater equality in Christian life than the Jews or the Romans had ever considered, much of which sounds like the call for equality of opportunity in the original American Dream:
Galatians 3:28
28  There is neither Jew nor Gentile, neither slave nor free, nor is there male and female, for you are all one in Christ Jesus.
Colossians 3:9-10
9  Do not lie to each other, since you have taken off your old self with its practices
10  and have put on the new self, which is being renewed in knowledge in the image of its Creator.
11  Here there is no Gentile or Jew, circumcised or uncircumcised, barbarian, Scythian, slave or free, but Christ is all, and is in all.
1 Corinthians 12:25
25  so that there should be no division in the body, but that its parts should have equal concern for each other.
2 Corinthians 8:13-15
13  Our desire is not that others might be relieved while you are hard pressed, but that there might be equality.
14  At the present time your plenty will supply what they need, so that in turn their plenty will supply what you need. The goal is equality,
15  as it is written: "The one who gathered much did not have too much, and the one who gathered little did not have too little."
Inequality and wealth were not (and are not) in themselves sinful. Those who were wealthy were not told by Paul to give it all away in all circumstances, but instead to use their wealth for good. 1 Timothy 6:18.
But even with the call for equality and for using wealth and money for good, I still have to ask myself, "Would Jesus live the American Dream and have a job, a home in the suburbs, two cars, etc., if He were here today? Does He want us to focus so much of our time on earthly comfort? I personally think the answers are, "No!" and "No!"
So, what should be different?
That question, "What should be different?" is the easy one. What should be different is my heart. I have a life and responsibilities in a fallen world, surrounded by fallen people and I get busy. Maybe it is a cheap excuse, but I got married and became an attorney long before I met Jesus. With those roles as husband and law firm partner, I picked up many responsibilities and demands that kept me busy. It was not easy to walk away from those, nor would it be Biblical for me to walk away from my wife and family responsibilities.
Regardless, Jesus started the process of changing me, my priorities, and my focus and that process continues today. It is a long growth and maturation process. He keeps challenging me whenever I stray away. One such challenge has come with Tim Keller's book Counterfeit Gods. Keller is Pastor of Redeemer Presbyterian in New York and is a well-known and solid speaker, writer and leader. With his book, he has challenged me in the way I view "my" money and "my" possessions.
We need to focus on the real future, the eternity with God and not the temporary pleasures of the current world. As Keller put it, "The incomplete joys of this world will never satisfy the human heart." He gave me the recognition that Jesus Christ is the only treasure I could ever have who sacrificed and died for me. That places Him before any other "treasure," whether it is money, possessions, sex, alcohol, drugs, or anything this world has to offer. Those things demand life from me, whereas Jesus gave His life for me and gave life to me. John 10:10.
Our focus while living is to be on treasures, but the treasures we should focus on are the treasures to come. Jesus said to His disciples:
Luke 12:33-34
33  Sell your possessions and give to the poor. Provide purses for yourselves that will not wear out, a treasure in heaven that will never fail, where no thief comes near and no moth destroys.
34  For where your treasure is, there your heart will be also.
What does that look like?
I call it living life intentionally – and that means I want to live a life that is a bit more of a different type of "ride" than some people may want. It is easy to drift through life, like a bottle floating with the currents of the ocean. Yes, you will get somewhere. But it will as likely be rocks below the cliffside as a sunny beach in the tropics.
Rather than drift, go with purpose and with a Christian world view of your surroundings. Then, when an opportunity presents itself like a person in need or someone facing a crushing trial, you are prepared and ready to offer a word of encouragement and more.
Psalm 41:1-3
1  Blessed are those who have regard for the weak;
the LORD delivers them in times of trouble.
2  The LORD protects and preserves them—
they are counted among the blessed in the land—
he does not give them over to the desire of their foes.
3  The LORD sustains them on their sickbed
and restores them from their bed of illness.
At my church, Idlewild Baptist Church in Lutz, Florida, we have "measures" which are targets you can look at to see if you are reflecting our church's values well. The last of those measures is "Do I live with open hands?" Those open hands must be intentional to function well. They also must be willing to act when the opportunities arise. While worship is crucial, God desires more than our words and times of worship, He desires worship – honoring Him – in the things we do outside of and in addition to organized services.
Isaiah 58:6-8
6 "Is not this the kind of fasting I have chosen:
to loose the chains of injustice
and untie the cords of the yoke,
to set the oppressed free
and break every yoke?
7 Is it not to share your food with the hungry
and to provide the poor wanderer with shelter—
when you see the naked, to clothe them,
and not to turn away from your own flesh and blood?
8 Then your light will break forth like the dawn,
and your healing will quickly appear;
then your righteousness will go before you,
and the glory of the LORD will be your rear guard.
To make this open-handed life intentional, here are some steps my wife and I have taken, at least some of which may be practical for others. These are not steps everyone can take or even that everyone should take. They are not even the end goal for us, but instead only represent as far as we have walked with Jesus up to this point in time. Other people will take different and probably better, and wiser, steps. I offer these just for the concept of helping some people move forward in their walk with a generous God. I love to adapt others' ideas for my life and I hope these ideas may offer some inspiration to someone else.
1. Serve freely. We are doing that in our retirement, but it didn't start then. No where does God suggest that because a person is busy, God can be pushed to the "to do in the future" list. We have been serving, and we will continue serving as best as we are able. Everyone should serve as they are physically and mentally able. Compared to writing a check, service is harder – but much more rewarding.
Since retirement, one volunteer job we have added is greeting at one of the doors to our sanctuary. That is absolutely fun. It took a few weeks for folks to begin to recognize us but now we are missed when we are out of town and we have met dozens of new friends. I also have had the blessing of getting to watch many children enter Idlewild running, jumping and absolutely excited about coming to church! We are at the door where many special needs members enter and we love their sincerity and hugs.
2. Give freely. We give to our home church, more than just tithing. Everyone should support his/her home church. Yes, it is important to give money as well as serve. The utilities and salaries have to be paid; it costs money to do ministry. By giving to my church, I partner with God in His church's ministries.
3. Support many. Even over that, we support several ministries and missionaries with monthly funds. None of those amounts are nearly enough to fully support anyone, but we want to be a part of what God is doing though several ministries and missionaries we know to be effective. By doing this, I partner with several ministries and missionaries as well as with God and I get to see God at work in many people's lives. To the extent possible, everyone should engage in some giving that is kingdom-oriented like this in addition to giving to God through their home church. In addition to being the right thing to do, it is a great teaching moment for your children and grandchildren to have them see you be generous with those serving the Lord. 
4. Be prepared. We have money set aside for special acts of generosity. We have an account balance designated for kingdom acts over and above our tithes and offerings to the church and missionaries. This allows us to be intentional and effective when an opportunity appears before us. It helps us be flexible and act quickly when there is a need. This type of generosity should be built into everyone's budget.
5. Give wisely. We typically give through a Donor Advised Fund, a Giving Fund, set up through the National Christian Foundation. A giving fund is a wonderful giving tool that can be used to help tax-wise giving, allowing more money to go to ministries that matter to me and less to the government. For more on the benefits of Giving Funds, see The Giving Fund in our blog section.
6. Be willing to let go. We regularly clean our closets and give clothes we haven't worn in a while. If I don't wear it, that clothing is far more important to others with needs than to hold a spot in my closet. My wife gives to a church ministry called Loft 181 that serves foster children and girls taken out of sex-trafficking. That is a blessing.
7. Be prepared. We keep our eyes open and look for opportunities. Having money set aside for giving allows us to act when the opportunity is there.
All of that leads from the easy questions to the hard one.
Am I willing to sacrifice to be there?
Can I step aside from even the good parts of the American Dream and the good life we are enjoying, to live the Christian life Jesus has called me to live? Am I willing to face the same issues and come up with the same answer as Jesus on the Mount of Olives the night before the cross?
Luke 22:39-44
39  Jesus went out as usual to the Mount of Olives, and his disciples followed him.
40  On reaching the place, he said to them, "Pray that you will not fall into temptation."
41  He withdrew about a stone's throw beyond them, knelt down and prayed,
42  "Father, if you are willing, take this cup from me; yet not my will, but yours be done."
43  An angel from heaven appeared to him and strengthened him.
44  And being in anguish, he prayed more earnestly, and his sweat was like drops of blood falling to the ground.
The full answer to my question to myself lies in our future. How about you? Nothing we do is mandatory (except giving to God's church) and there is no set formula, minimum amount or percentage, or legalistic balance between service and giving money. That is for your personal and prayerful time alone with God. May God bless you as you search for the right path on your personal walk with Christ. And may your journey through life end with the exclamation that you are "thoroughly used up, totally worn out, and loudly proclaiming 'Wow! What a Ride!'"


About the Author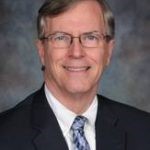 John Campbell has retired from a 40-year legal practice as a trial attorney in Tampa. He has served in multiple volunteer roles at Idlewild Baptist Church in Lutz, Florida, where he met Jesus. He began serving as the Executive Director of the Idlewild Foundation in 2016. He has been married to the love of his life, Mona Puckett Campbell, since 1972.