If nothing has changed in your wishes, your family, your assets or the law, then it doesn't matter how old your will is. The problem is that life happens. Circumstances, families, assets and laws change. Many life changes may call for a will and an estate plan to be redone, including:
A child or grandchild making poor life choices,

Deaths,

Marriages,

New children, grandchildren, or great grandchildren,

Adoption,

Health issues such as a special needs or disabled child, Grandchild or greatgrandchild,

Relational issues such as separation, divorce or re-marriage,

Blended families from remarriage,

Behavioral or social issues such as family disputes or even imprisonment,

New assets, investments, property, or income.
A change in any of the above circumstances or a change in your own heart may call for small or even large changes in a will. Your will is your final expression of your wishes and your heart; it should reflect who you are, not who you were years ago. It should reflect how you have changed and grown over time and it should also communicate what you want now in terms of your legacy.
A legacy is what you leave behind. Either in or with your will, you have a final opportunity to leave your Christian testimony in a way that may change the life and even the eternity of those you have left behind. Your final papers are your opportunity to leave a last (and a lasting) testimony to those you love.
Your will also is your final opportunity to leave a gift to a church or charity that has had a special impact on your heart or your life. Many people have been helped, even blessed, during important moments of their lives by people, their church or a charity that stood with them. This is a special time to give honor when honor is due.
To learn more, give The Idlewild Foundation a call. The Foundation was established to promote planned giving and would be happy to discuss with you the options available. We love to promote the idea of creating and leaving a legacy through planned gifts. The services we offer are without charge.


About the Author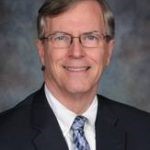 John Campbell has retired from a 40-year legal practice as a trial attorney in Tampa. He has served in multiple volunteer roles at Idlewild Baptist Church in Lutz, Florida, where he met Jesus.  He began serving as the Executive Director of the Idlewild Foundation in 2016.  He has been married to the love of his life, Mona Puckett Campbell, since 1972.