I love watching little children destroy our best efforts to understand what they wanted for Christmas. They tear into the wrapping (in far less time than it took me to wrap the presents – or even less time than it took me to have it expensively wrapped), get to the box, pull that expensive toy out of the box … and then toss the toy aside and play with the box! Perhaps there is a message there in that common event for us. Or, as happened a few Christmas' ago, I watched a child receive so many toys that she couldn't play with most – so they went into the unused toy pile almost instantly.
Christmas is about giving – but the giving that counts is very different than what is seen in modern America. First, there is the most amazing gift ever given, Jesus. John 3:16. Without that gift we would be left with the barbarity of the Roman Empire and the cold formality of legalism. Can you ever work hard enough or be good enough to deserve heaven?
The second appearance of giving lies in the magi as they came a great distance to give gifts that set out the future of Jesus, His Lordship shown in the gold, frankincense which was a symbol of his priesthood, and myrrh, an embalming oil for His impending death. Matthew 2:11.
In that context, how we give does not fare well. Giving for Christmas is a struggle every year; what to buy, how much to spend, the hassle of the mall, the pain of online shopping without being able to see or touch the product or try it out (or on), and the inevitable horror of returns after Christmas. Then come the bills!
Isn't there any way that is better? Yes! There is a book that is now over 20 years old and going strong, Hundred Dollar Holiday: The Case for a More Joyful Christmas by Bill McKibben, that is worth reading.
The author is an environmental writer and he brought a fresh approach to the hectic Christmas most of us suffer through. He began to get interested in wanting a "more joyous Christmas." McKibben starts with a historical look at what isn't really a Christian holiday – at least not if you go back far enough. He takes the reader on a lengthy stroll through time as Christmas went on its own journey and became a shopping bonanza instead of a Christian celebration. That evolution of Christmas gives us every reason to change how we look at Christmas. He says "the reason to change Christmas – the reason it might be useful to change Christmas – is because it might help us get at some of the underlying discontent in our lives."
It is difficult for any believer to disagree with the comments and opinions he offers. While gifts are and should remain a part of Christmas, perhaps it is time for Christians to reclaim some lost territory and do more than just talk about putting Christ back in Christmas. Maybe we should actually walk that talk!
Then, he asks what he calls a "subversive question." That question is "What was I made for?" He asks this in an effort to shift our view from "stuff" to more of what Christmas should be. McKibben then suggests such neighborly and radical ideas as go across the street and knock on the door of some barely-known neighbors and give them some freshly baked brownies. That gift of brownies is in the vein of his suggestion of the best gift of all to give – your time. Better than spending the time preparing Christmas cards, give that time directly to your family and friends – spend time with them. He suggests such relational and family-oriented ideas as a coupon for a monthly back-rub, a gift certificate for a trip to the zoo, a walk in the woods or even a game of Scrabble. The lasting memories of time well-spent are far better than the memory of a really neat toy that was given away years ago because it was outgrown.
I also love the limiting title of the book, Hundred Dollar Holiday: The Case for a More Joyful Christmas. Why $100.00? No reason except it is a good round number, easy to remember, not too low to be horribly limiting – and it also makes a good book title. If the number is unreasonably high or low for you depending upon your circumstances, you can change it. But remember to keep the number low enough to allow Christ to remain in the center of your family's Christmas world.
As a genuine environmentalist, McKibben can't resist commenting upon, and perhaps even celebrating, the possibility that if enough people followed his plan, there would be less wasteful manufacturing, buying, selling, shopping and debt-building. In exchange for that would be caroling, visiting shut-ins in hospitals and assisted living facilities, resulting in "one of the most comfortable ways to begin and renew" our relationship with Jesus.
He also loves Luke 2:19,
19 But Mary treasured up all these things and pondered them in her heart.
Every Christian should spend time pondering the miracle of Christmas. It's hard to do that in the crush of the mall or sitting in front of your computer or phone screen completing a purchase. In fact, it is impossible.
It has been 20 years since McKibben published his book, and obviously the idea has been more talked about than put into practice. Don't give up hope yet, though. Take Christmas back. There is no rigid formula or schedule proposed for doing this. Actually, he admits "there is no ideal Christmas, only the Christmas you decide to make as a reflection of your values, desires, affections, traditions." Start this Christmas and make some new traditions, traditions that truly reflect your desires, values and affections. Make it a Jesus-filled very merry Christmas!


About the Author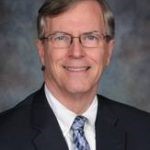 John Campbell has retired from a 40-year legal practice as a trial attorney in Tampa. He has served in multiple volunteer roles at Idlewild Baptist Church in Lutz, Florida, where he met Jesus. He began serving as the Executive Director of the Idlewild Foundation in 2016. He has been married to the love of his life, Mona Puckett Campbell, since 1972.