I Hate Crowded Stores!
Here's a really odd idea – have a Merry Christmas! That is so old-fashioned and almost counter-cultural anymore. The holidays start even before October; Christmas lights and advertisements are out in October and they are late if not out in early November. The idea of a calm, reflective and spiritual Christmas where you can see the most amazing gift of all – Jesus! – is something you can see in the old-fashioned movies but not the mall.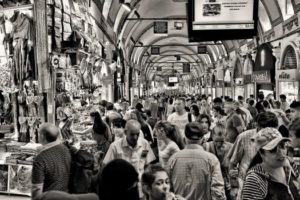 Stop!
Take a deep breathe, step back and start over again.
It is not Happy Holidays, it is Merry Christmas. This is the season celebrating the birth of our Savior, not the salvation of retail sales. Buying gifts is not wrong, but forgetting to recognize the reason for the season is. Pushing Jesus into the creche and pushing the manger to a corner of the yard or a spot under the tree while the rest of the yard and home are filled with Santa, reindeer, sleighs and toys reflects a problem of priorities.
God sent His Son out of heaven where He had everything (except us) and the gift of life, life eternal and life with abundance is a far better gift than a new phone, an iPad, or yet another shirt or pair of socks. Instead of stuff, make Christmas about people, starting with Jesus.
Jesus First
Peace is what Merry Christmas should be about. As a part of Jesus's last words to His disciples, He said,
John 14:27
27   Peace I leave with you; my peace I give you. I do not give to you as the world gives. Do not let your hearts be troubled and do not be afraid.
(NIV)
He left peace, but that peace is hard to find in the crowded stores, overloaded parking lots and even online, where the "buy now" software just lacks that joyful Christmas spirit. Instead, always remember that Jesus told us to come to Him when we are weary and heavy laden. Why? He will give us rest. (Matthew 11:28). Rather than be concerned about whether the sale items will be sold out, we are to cast all of our anxiety on Him. Why? Because He cares for us. (1 Peter 5:7). Instead, we rush from store to store and from sale to sale, never hearing the still, small voice of God calling to us, saying, "be still, and know" that He is God. (Psalm 46:10).
Can Jeff Bezos and Amazon say the following to you? Will they shelter you in times of trouble?
Psalm 91:1-2
1   Whoever dwells in the shelter of the Most High
will rest in the shadow of the Almighty
2   I will say of the LORD, "He is my refuge and my fortress,
my God, in whom I trust."
(NIV)
In Christ we can have that peace, that calm, that area lacking anxiety and that refuge, but we can't find that at Amazon.com. It isn't at the mall, either. I did a search and while Amazon will give you page after page of products and books claiming peace can be yours, for as little as $16.95 (plus shipping unless you have Amazon Prime), but not one offers true refuge from the storms of life.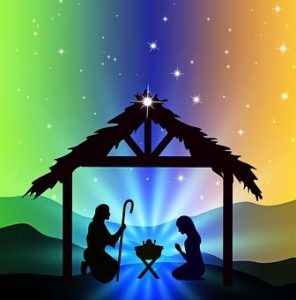 Start the season with the author and finisher of our faith. Hebrews 12:2. Next, let's look at some practical steps you can take to make the most of this Christmas season.
Budget and be creative
• Find (or start) a group in a neighborhood singing Christmas carols. Join them and encourage your friends to join you!
• Look for someone lonely over the holidays, a widow or widower at your church and open your home to them. God seeks to comfort those in need through us. Psalm 72.
• Have a budget for Christmas gifts and stick to it! Do not start by making "a few" exceptions. Take a step back and refocus on the real reason for the season. You can do this in a couple very different ways. With some people, especially young children, a few smaller and less expensive gifts may be the best choice. After all, many kids seem to have more fun with the box than with that expensive toy you were sure would be a delight. For others, one larger gift may be the best, but always remember that expensive gifts are often not the best; thoughtful gifts are frequently the most appreciated ones.
• Believe it or not, thrift shops are great places to shop, especially for Christmas décor. Even better, you can make your own with some wild holly and evergreen branches.
• The fun, personal and free activities are usually the ones remembered best and appreciated the most. Give the gift of your time and attention. Turn your smart phone off and find a concert, an area with many Christmas lights, or read a good Christmas story to your kids.
• Talk a walk, or, even better, a hike and see some of the miracle in nature God has given us and that Paul wrote about in Romans 1:20:
Romans 1:20
20  For since the creation of the world God's invisible qualities—his eternal power and divine nature—have been clearly seen, being understood from what has been made, so that people are without excuse.
• Watch a gorgeous sunset (on the beach if you can) or get away from city lights and spend a few minutes gazing at the amazing stars on a clear night.
• Add to those nature treks an almost sinful delight; bake some Christmas cookies, make some hot chocolate and carry it along with you.
Say "NO!"
• Who controls you? Is it the Almighty or is it the whim and pull of advertising and marketing? The Lord is our shield and it is His right hand that sustains us. Psalm 18:35. Pray before and during shopping trips, asking for the ability to say "NO" to the inevitable pressures of "you need this!"
• Go with a friend who is able to help you think and pray before you spend.
• Try to implement a 10 minute rule. Walk away, shop somewhere else, and wait at least 10 minutes before making a purchase. You will be surprised how that 10 minute delay can save a lot of money. If you want it to be even more effective, make it a 30 minute rule!
Avoid Temptation
• Wait, wait, wait, for the advertised sale. Don't wander the mall just for a walk. Don't eat a meal at the mall food court. Stay away from stores that hold your interest.
• Don't take your credit card with you when shopping. Carry cash. It is a lot harder to count out the bills, one after another, than just slip the card into the slot. Have you noticed that stores are making it easier to buy on credit? Why, you don't even have to sign a credit card slip most of the time. Easier is faster and that is not a good thing for your budget.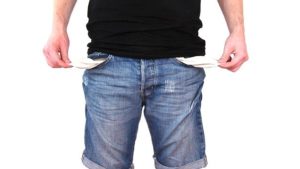 • Recognize that every shopping trip is a test of your will power and self control. Self control is a fruit of the spirit, ask God for it.
• Before you buy, think about how many hours you will have to work to pay for each item. Is it really worth that much work?
• Do not compare your Christmas purchases with anyone else's and encourage your children to avoid peer pressure.
Refocus
• Go back to the first point and refocus on the fact, and it is a fact, that the reason for this season is Jesus.
• Help yourself refocus by playing Christmas music, having a Christmas candle that gives off a holiday scent, putting up Christ-centered décor that will bring you back to the main thing when the world distracts you.
Psalm 9:2
2 I will be glad and rejoice in you;
I will sing the praises of your name, O Most High.
(NIV)


About the Author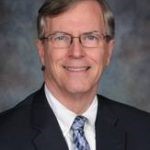 John Campbell has retired from a 40-year legal practice as a trial attorney in Tampa. He has served in multiple volunteer roles at Idlewild Baptist Church in Lutz, Florida, where he met Jesus. He began serving as the Executive Director of the Idlewild Foundation in 2016. He has been married to the love of his life, Mona Puckett Campbell, since 1972.