Father's Day can be a tough holiday. There are many like myself whose father has been gone for many years. There are others whose birth father abandoned them or worse. But there are many others with fathers who are living and are special. Here are some ideas for all of them.
Overall, honoring fathers is a great start to building a foundation for present and future families. Having a solid foundation matters – a lot.
Matthew 7: 24-25
25  "Therefore everyone who hears these words of Mine and acts on them, may be compared to a wise man who built his house on the rock.
25  And the rain fell, and the floods came, and the winds blew and slammed against that house; and yet it did not fall, for it had been founded on the rock.
No, Dad isn't and has never been the perfect father. Let me guess, you were the perfect kid? No, the position of perfect Father is reserved for our Father in heaven. But fatherhood has never been easy. Accept the fact that there have been failures, but that hopefully you turned out right anyway.
Regardless, it honors God for you to honor your parents.
Exodus 20:12
12  "Honor your father and your mother, that your days may be prolonged in the land which the LORD your God gives you.
Father's Day is always the third Sunday in June. Put the date into your online calendar and make it recurring. Now you have no excuse for missing it!
Father's Day 2023    Sunday, June 18, 2023
Father's Day 2024    Sunday, June 16, 2024
Father's Day 2025    Sunday, June 15, 2025
Father's Day 2026    Sunday, June 21, 2026
Honoring fathers who have passed
Some honor their fathers on the anniversary of their passing, but others honor them on Father's Day. Whatever day it is, honor them. Share a memory with family and sharing with pictures is even better.
Honoring fathers who are absent
The unfortunate truth of America is that way too many fathers are missing from the lives and homes of their children. Some have chosen to abandon the responsibilities God has given to them to be the head of the household. Others have been forced away from their families by family disputes. There are many reasons, some understandable, others not. Regardless, the result is that the foundations of our homes and lives are weaker because of their absence.
No one can change the past. But we do have a part in creating our future. If you are reading this, don't look back in anger or even in sorrow at the past. Instead look forward to your future and the lessons you can learn from his past mistakes. Maybe the greatest gift you can him give is forgiveness for his mistakes. We all make mistakes, some larger and more impactful than others. And we all need forgiveness. Think of the sins of the older brothers of Joseph and his forgiveness. They caused him to be sold into slavery and told his father Jacob that he was dead. Genesis 37-50. Yet he still forgave them and loved them. Genesis 50:15-21.
God wired us with a basic human need. We need fathers in our future who will instill Christ into their children, who will not just teach but live the life of a good, moral and law-abiding man.
Honoring fathers who are here
Use this day to honor all fathers, not just your Dad. Make this a celebration of the many strong, hard-working, devoted and loving fathers who are on the front lines with their wives and children, working to provide support while playing with their children and loving their wives every day.
It does not take a "Super Dad" to have a super impact. Psychology Today reported the following:
"Children who have an involved father are more likely to be emotionally secure, be confident to explore their surroundings, and, as they grow older, have better social connections…Numerous studies find that an active and nurturing style of fathering is associated with better verbal skills, intellectual functioning, and academic achievement among adolescents."
There are a thousand or more ways to celebrate the life of a father. You can purchase a special gift, take him to a game involving a favorite baseball team, give him a round of golf, or simply buy or, even better make, a special card that tells him how awesome he is.
Or make it an even bigger deal. Plan a cookout with fathers, uncles, grandfathers, friends and family. It will be hot, but worth the time. If that isn't possible because the family lives spread out all over the U.S. or even the world, make it a block cookout with all the dads in the neighborhood.
You have many options, make a card, make a gift basket, make a gift, buy a gift. But all of those pale in comparison to your presence and kind words. Consider sharing the following as a part of giving that honor:
God took the strength of a mountain,
The majesty of a tree,
The warmth of a summer sun,
The calm of a quiet sea,
The generous soul of nature,
The comforting arm of night,
The wisdom of the ages,
The power of the eagle's flight,
The joy of a morning in spring,
The faith of a mustard seed,
The patience of eternity,
The depth of a family need,
Then God combined these qualities,
When there was nothing more to add,
He knew His masterpiece was complete,
And so, He called it … Dad
Why? The following give some reasons that apply in many cases as good reasons to honor your father.
1. Dad gave you life. Even if you don't have the best relationship with your father, you wouldn't be here without him! But it doesn't stop there because it is far easier to become a father than to be one.
2. Dad helped and served a lot during your early days. The pregnancy, childbirth and newborn phases you went through were hard on him as they were on Mom. He became an expert diaper changer and tear wiper.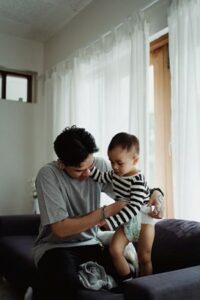 3. Dad loves you without restraint and unconditionally. He may not show it well (it's a guy thing), but that love is there. Look back at those old family photos with him holding you.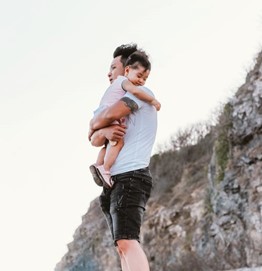 4. Dad worked hard to pay the bills and keep things together around the house. Many dads were and still are the family's primary or only breadwinner, especially during the earliest years of your life. Back then there were a lot fewer Mr. Moms.
5. Dad did his best as a role model. Sure, he failed at times; no one is perfect. The truth is that most dads try to be a good example. I love the way one author put it:
My father didn't tell me how to live; he lived, and let me watch him do it.
Clarence Kelland
6. Dad taught you sports and kept you active as a child. He also likely picked you up the times you fell as you learned to ride that bike without the training wheels.
7. Dad helped when he could and as much as he could. Sure his advice wasn't always what you wanted, but later you learned that he was wiser than you used to think he was.
Remember what Mark Twain wrote about his dad:
When I was a boy of 14, my father was so ignorant I could hardly stand to have the old man around. But when I got to be 21, I was astonished at how much the old man had learned in seven years.
That is a shorter version of what Ann Landers, the great advice columnist, later write:
4 years: My daddy can do anything.
7 years: My dad knows a lot, a whole lot.
8 years: My father doesn't quite know everything.
12 years: Oh well, naturally Father doesn't know that either.
14 years: Father? Hopelessly old fashioned.
21 years: Oh, that man is out-of-date. What do you expect?
25 years: He knows a little bit about it, but not much.
30 years: Maybe we ought to find out what Dad thinks.
35 years: A little patience. Let's get Dad's assessment before we do anything.
50 years: I wonder what Dad would have thought about that. He was pretty smart.
60 years: My Dad knew absolutely everything!
65 years: I'd give anything if Dad were here so I could talk this over with him. I really miss that man.
8. Dad was your shelter. He made you feel safe and kept you safe. Sigmund Freud knew that well:
"I cannot think of any need in childhood as strong as the need for a father's protection. "
9. Dad was funny. The best Dads don't take themselves too seriously.
10. Dad was your banker. If you needed money, ask Dad (If he said, no, there's always Mom).
11. Hopefully Dad encouraged you in your faith. A father's most important job is to disciple his children to meet and know Jesus.
Of course, your Dad didn't hit all of these. He wasn't a super Dad (probably), but he was still the best Dad he could be. Thank him, honor him and give back to him some of the love and joy he shared with you.
Here's a final tribute and thought:
A dad is a mender of toys,
A leader of boys.
He's a changer of fuses,
A healer of bruises
He's a mover of couches,
A soother of ouches.
He's a pounder of nails,
A teller of tales.
He's a dryer of dishes,
A fulfiller of wishes
Bless him, O Lord.
     Jo Ann Heidbreder


About the Author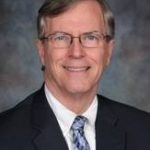 John Campbell has retired from a 40-year legal practice as a trial attorney in Tampa. He has served in multiple volunteer roles at Idlewild Baptist Church in Lutz, Florida, where he met Jesus. He began serving as the Executive Director of the Idlewild Foundation in 2016. He has been married to the love of his life, Mona Puckett Campbell, since 1972.